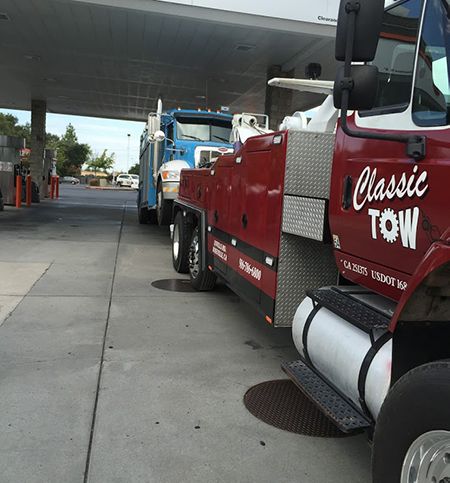 Just about all tow truck companies are capable of towing passenger cars and pickup trucks but when it comes to heavy duty towing, you need a tow truck that can handle the load. You need a Class A tow truck driver that knows what it takes to tow your bigger truck, motorhome, RV, rental truck, big rig or bus. You need Classic Tow. For more than 30 years we've been providing towing to those in Roseville, Rocklin, Loomis, Penryn, Lincoln, Orangevale, Granite Bay, and Citrus Heights, CA.
Heavy Duty Towing Services
At Classic Tow, our staff is knowledgeable on what it takes to tow medium duty and heavy duty trucks. From delivery box vans to the big semi truck and trailer we can take care of it. If we can't tow it for you, we will refer you to another company that can. When you call Classic Tow, you will actually get to talk to someone who understands your situation and will ask all the right questions so we can send out the best truck for the towing service needed. Our professional and capable tow truck drivers will safely get your truck, recreational vehicle or bus to its destination with damage free towing. We can tow you off the freeway, to a repair shop or to your place of business. We stay current on our Motor Carrier and DOT so we can take you anywhere you need to go.
Classic Tow also offers free quotes over the phone, so you don't get stuck with sticker shock at the end of the heavy duty tow. We charge hourly on heavy duty towing and have gotten pretty good at estimating how long a call will take from our 30 plus years of experience.
Call Classic Tow at 916-786-6800 to find out more about our heavy duty towing services. Our tow yard is located in Roseville CA but we help those in Rocklin, Loomis, Penryn, Lincoln, Orangevale, Granite Bay and Citrus Heights as well as the surrounding areas.