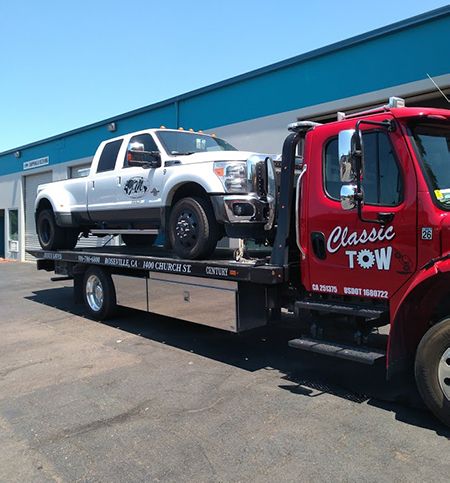 Classic tow has several flat bed tow trucks which are ideal for damage free towing of your classic vehicle, sportscar, motorcycle, or even equipment. These tow trucks are great for the long distant towing of your vehicle because your vehicle is secured on the car carrier and there are no moving parts on your vehicle during the tow.
Our low clearance tow truck is used for vehicles that need to be towed or need roadside service in a parking garage. Parking garage towing requires a low clearance tow truck which most tow companies do not have. We specifically bought our low clearance tow truck because there were too many customers that we could not service with our flat bed tow trucks or our wrecker tow trucks because they were too big. Parking garage towing has many obstacles to overcome. First your tow truck must be low enough to fit into the garage and 2nd small enough to maneuver in the parking garage so as not to damage other vehicles. Our highly trained tow truck drivers are skilled at getting your vehicle out of the parking garage and to its destination damage free.
Classic Tow also has our wrecker tow trucks which are ideal for those times when you are stuck in the mud or need to be winched out of a bad situation. Winching takes knowledgeable and skilled tow truck drivers in order to make sure that your vehicle is winched out, damage free. We have rescued many cars and trucks that were stuck in mud or sand or even in a ditch. We've taken cars and trucks off center divides and kept many from rolling over because they were in such a bad situation. If you find yourself in need of a winch out, call our service at Classic Tow and we will get you the right tow truck and the right tow truck driver for the job.
At Classic Tow we know that when you need help, you don't want to listen to a recording or talk to someone who has no idea what you are talking about. That's why we still answer our own phones so you can get the help you need as soon as possible. Our office staff is able to get you a price quote for the service needed because our company is family ran and operated for over 30 years. We know the towing business in the office and in the tow trucks. Call 916-786-6800.