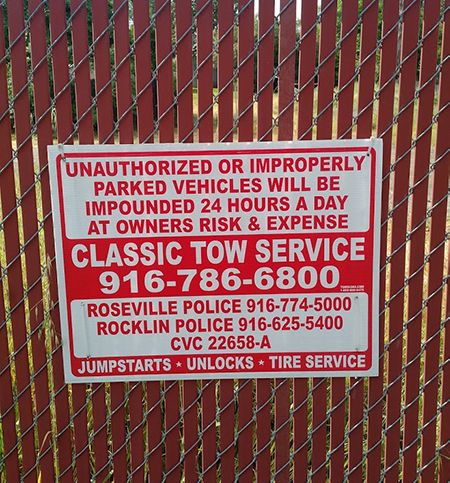 WE DO NOT TOW CARS PARKED IN YOUR PARKING SPACE. YOU MUST HAVE YOUR APARTMENT SECURITY OR MANAGEMENT TO HAVE THAT DONE WITH WHATEVER TOW COMPANY THEY ARE SET UP WITH. CHECK THE NAME OF THE COMPANY ON THE SIGNS AT THE ENTRANCE TO THE PARKING LOT. WE DO NOT POLICE PARKING LOTS FOR TOW AWAYS.
Private property towing requires a good reputable company that knows the California vehicle codes for towing cars that are parked on private property. Business owners need their parking spots for their customers and property management needs to be able to get rid of abandoned vehicles from the properties they manage. Landlords and property owners need to have the right to remove vehicles that do not have your permission to park on your property. We tow for many property management companies and businesses and can provide you with the signs you need to have at all parking entrances in order to do private party tows. We do not install them, but we do provide them, and you can pick them up at our Roseville location at 1400 Church Street or we will drop them off for you.
We are knowledgeable on California Vehicle Codes and what is required by law to tow an abandoned vehicle or one that is parked on your private property. We tow for homeowner associations, gas stations, property management companies, business owners, restaurants, landlords, homeowners and other property owners that needs to have a vehicle towed away. Some are towed at owners' expense, if it is obvious that the owner will pick up their vehicle. Others have no registered owner and no title for disposal and those require that we go through the lien sale process in order to dispose of these abandoned vehicles. For these vehicle we do have to charge the property owner or property management to tow away. This is especially true with abandoned motorhomes and trailers. It is very costly for a tow company to dispose of these and we do charge accordingly.
Our office staff is knowledgeable on private property tows and can give you a price quote for disposing of that unwanted vehicle, motorhome or trailer. We will set up an appointment to meet the manager, property owner or landlord and have you sign the authorization to tow form or we can set up an agreement that allows us authority to tow without you being present. Whatever works best for whatever your situation is. Call us at 916-786-6800 and Classic Tow will answer any questions you may have.